Sophie's Dice
Sophie's Dice v1.2 Update
---
It's time for an update! Version 1.2 is mostly fixes, but there are a couple of cool new things that might interest you!
User Value Sets
Create and manage sets of values to be used in roll expressions. Put simply, this is where you can enter the stats from your RPG character sheets! Want to roll "d20+str"? A user value is what you use to define what "str" is, and when characters level up you can adjust their values accordingly.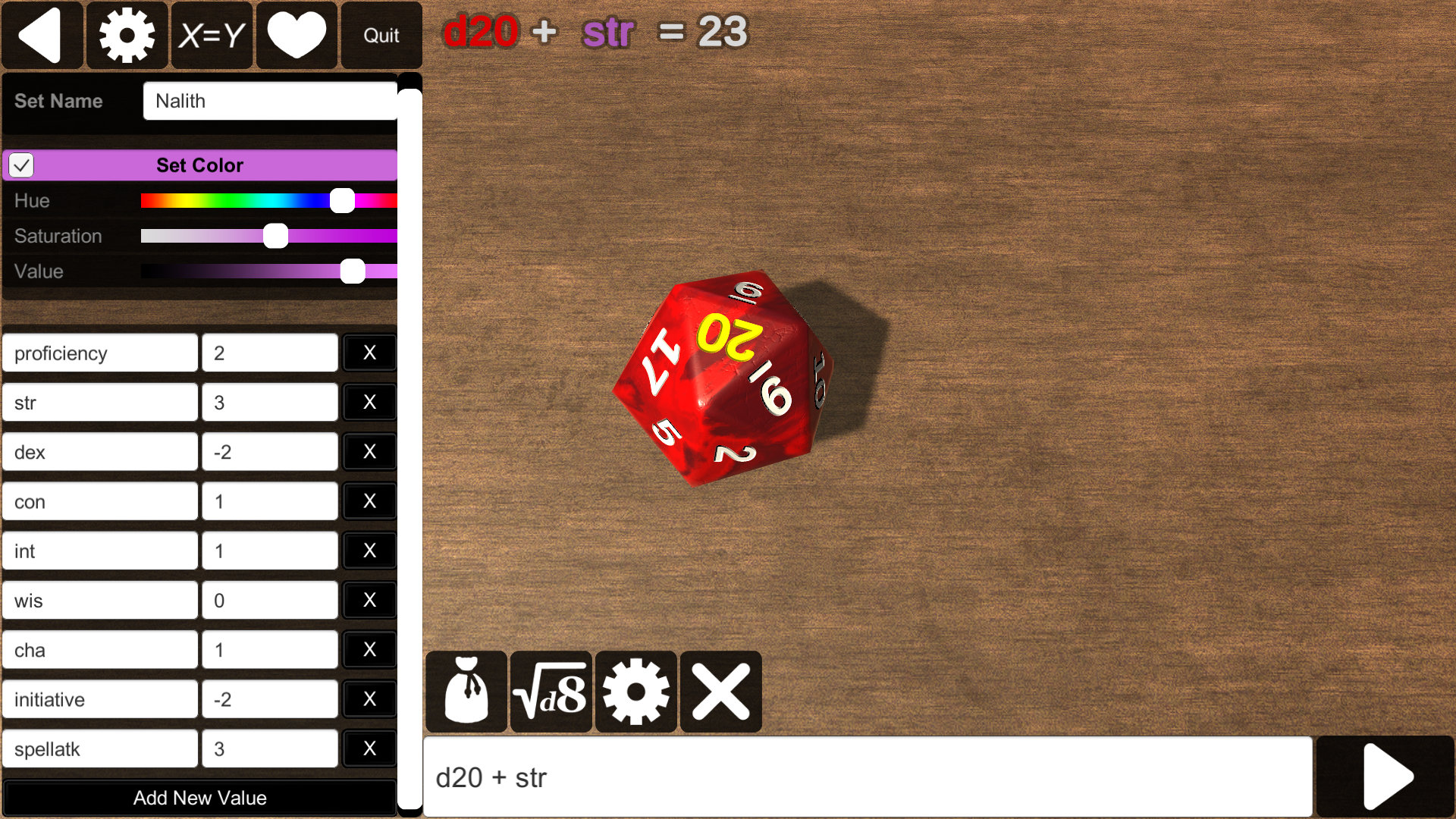 A bonus is that naming the values in your roll expressions means when you save them, you don't forget what they were for!
"But Sophie, why are user values in sets? Why not just one list of values?"
I'm glad you asked, imaginary person! Each set can have its own name, colour, and can be toggled on/off - this way you can have stats for different characters, games, mechs, beast shapes, etc - and just disable them when they are not in use!
Value sets can be colour coded, to make it a little easier to know which values are being used in an expression

-
Copy/Paste/Randomise Dice Style
Up until now it has been a real pain to create dice sets with a matching style, so now you can copy and paste a style between dice easily! And as a bonus, you can try randomly generated styles too!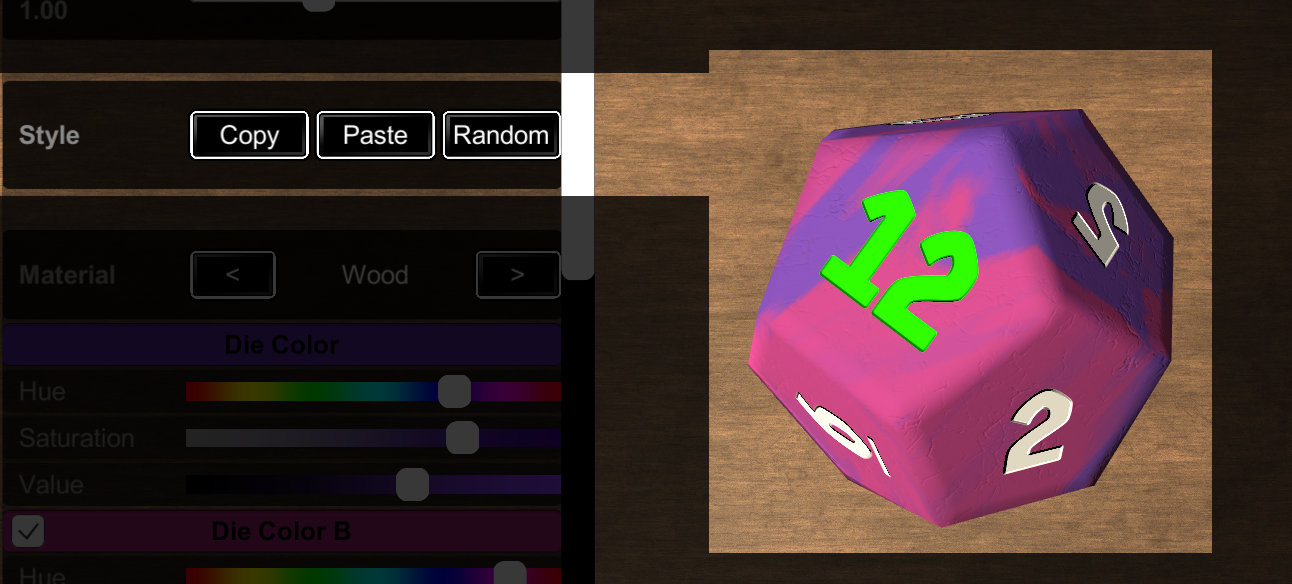 I click the random button a few times before I edit a die now, to find a starting point I like

-
New Example Dice and Rolls
Not so many new Dice this time (after all, I trust you can make whatever you need!) but my current nerdy obsessions made it into this version: a BUNCH of Lancer dice (and saved Rolls as examples for expressions with difficulty/accuracy), and also some cricket dice.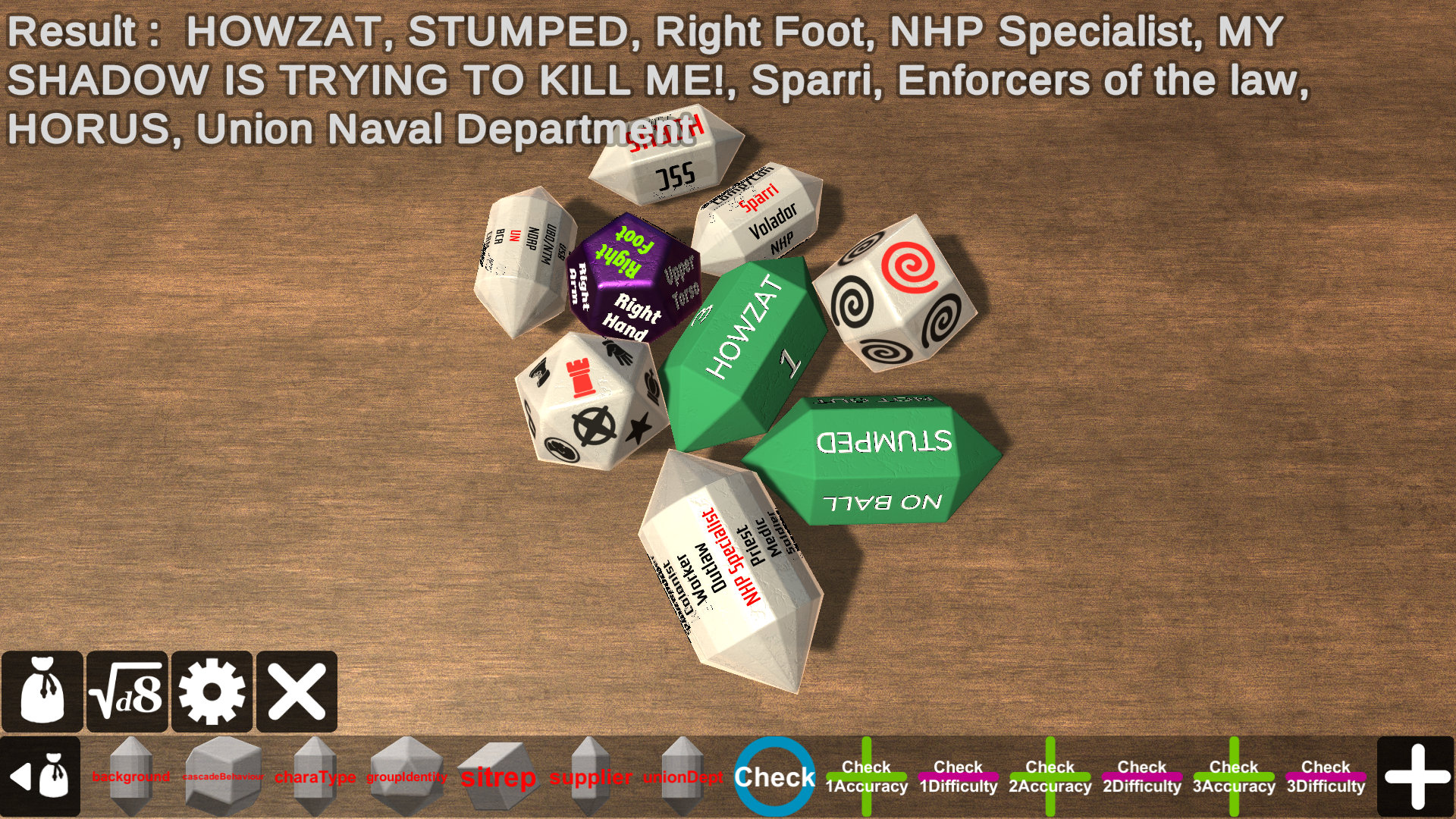 Most of the Lancer dice are not going to be useful in play very often, but the lore is fun so I made a few for some of it!

-
Disable String Stacking
A minor feature for most probably, but a few people have been making poetry dice with the app so I've added this option so you can have string results listed completely in the order their dice were rolled, without repeat strings stacking up.

This is a useful feature for whenever the *order* of results is important. (keep in mind the order is determined by which dice are rolled first, not which settle first)

-
Fixes & Improvements
There have been a lot of fixes. This isn't a new feature but wow did you know this app was really broken before? Like WOW it was broken. Most of the bugs weren't ever found by anyone but me, but wow... it was so broken you have no idea. It's much better now!
Files
Sophie's Dice 1.2 (Android)
91 MB
Jan 23, 2020
Sophie's Dice 1.2 (Windows)
628 MB
Jan 23, 2020
Sophie's Dice 1.2 (Mac)
631 MB
Jan 23, 2020
Sophie's Dice 1.2 (Linux)
633 MB
Jan 23, 2020